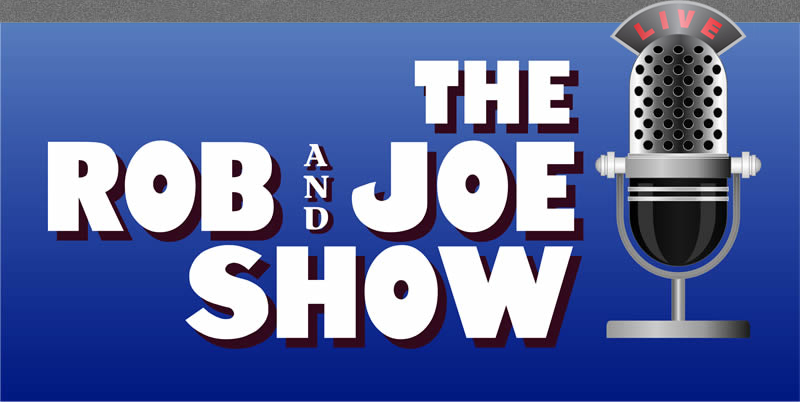 Episode 304 - June 12th, 2017
Rob is just back from Syracuse where he worked with Rob Schneider. He stopped at Arby's on the way home, and Joe explains why he is boycotting the fast food chain. Joe also rails against the decline of a popular Netflix show as well as some programming on the Food Network. Rob resents the growing popularity of Joe's Twitter account. The so-called "Comedy Koala" inspires Rob to step-up his game, especially on merch. Rob promotes a murder mystery show through Groupon, which may have drawn the wrong kind of audience. Even the cast members are seemingly trying to sabotage the show. Joe analyzes the "Bachelor in Paradise" controversy and Robby sheds light on the topic. Joe puts his foot in his mouth once again because he didn't learn his lesson the first time he said the exact same thing to someone. There is big news regarding the Kuwait trip. Robby is taken to task, and Marcus is grilled about the O'Mearacast co-hosts.
Episode 303 - June 5th, 2017
Netflix documentary "The Keepers" is yet another media piece feeding the national image problem of Baltimore. Rob and Joe argue about what constitutes a joke. Joe feels that Robby is borrowing Dan Nainan's style in his defense against the cheating accusations. Rob plays a multiple choice game with a brand new Gramps story. Joe attends a wedding where several things happen that defy logic. Rob poses some hypothetical questions about Joe's hypothetical wedding. Katie's father continues to mess with Joe in unbelievable fashion. Rob is un-friending like a fiend, so don't give him any excuse.
Episode 302 - May 29th, 2017
Some money is still on the table left there from a long-forgotten bit, but Rob and Joe are unsure of who the rightful owner is. Rob and Joe pay tribute to the listener (and former reservist) known as "Eric the Actor", whose untimely passing revealed the man's true identity. Joe's former radio partner owes a debt of gratitude to Robby after landing a morning show in a top 5 market. Another former 98 Rock employee also announces a new on-air gig. Joe on the other hand, is losing a show. Two people well-known to listeners meet, and form an instant connection based on their love of breaking Joe's balls. Tiger Woods' recent arrest leads to an analysis of the most colossal celebrity downfalls. A friend/former landlord is feeding Joe a wealth of stats to further taint Robby's Bachelorette fantasy record. Rob loses an audience by making fun of one of its members, and then another begs to be the target of his jokes as some kind of foreplay. Rob runs into the women to whom he lost his virginity and claims she is still as good looking as she was in high school. Rob details an emcee's recent performance whom Joe told to quit comedy many years ago. A Walgreens cashier's choice of vacation spots is questionable. Joe is being punished for the behavior of one of his kids and Marcus is outraged.
Episode 301 - May 22nd, 2017
Rob and Joe debate how the success of a comedian is measured in this era of social media. Rob may have figured out the identity of "Eric The Actor". Joe is convinced that Robby is already cheating at Bachelorette fantasy before the first episode has even aired. What has Robby done with episode 300? Die Laughing Productions is going to Kuwait, but Robby has a lot of reasons why you shouldn't plan a trip there. An SNL alum ruins Rob's planned weekend of comedy in Syracuse.