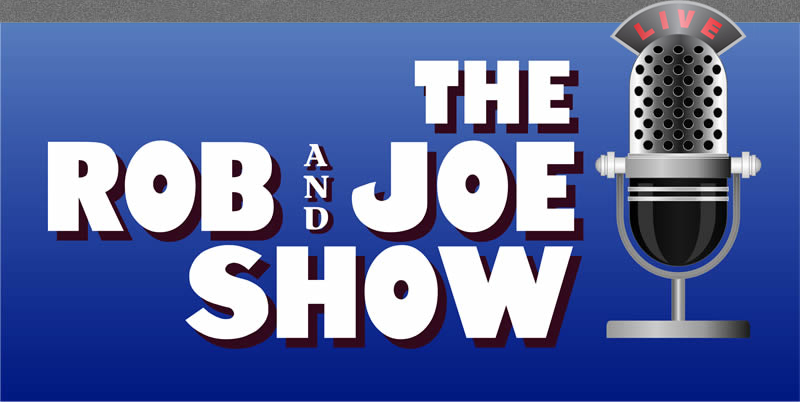 Episode 366 - June 11th, 2018
Mike Chamberlin joins to show to talk about what he's been doing for the past year, and be generally critical of everything. Rob and Joe celebrate their Capitals big victory. Rob is hanging with celebs back stage at the Colbert show. Rob and Joe are making plans for the assembly of fans in Las Vegas. Joe's role on the Ravens broadcast team may be expanding. Rob attends his first funeral and is surprised when his jokes don't work. When Joe discovers that some people think Rob is a ginger, he's determined to get to the bottom of it. Joe is concerned about his weight with respect to his future in-laws and wedding photos. Joe also announce the date and location for his nuptials. Chris Restivo has a brush with death. Rob performs in front of J-L Cauvin and his tiny girlfriend, plus some folks who like to name their kids after trees. Sadly, the show has lost another loyal listener and friend.
Episode 365 - June 11th, 2017

This episode is available to premium content subscribers only.
For more information about how you can hear
Rob and Joe bonus shows visit Patreon.com
Episode 364 - June 4th, 2018
Rob returns with tales from the road and thoughts on the previous show recorded without him. Joe reveals his choice for best man and a rift with the show's original announcer. Rob points out Gramps' ongoing shtick at the engagement party. The speculation by Joe and Katie about one particular guest's absence from the event is also addressed. Joe has a complaint about his favorite podcast, and puts Robby on the spot about his own objections to the show. Marcus has strong feelings about the end of a staple on the MORE network. Joe and Marcus review the latest Star Wars installment. Rob and Joe struggle over the loss of a friend and colleague.
Episode 363 - May 21st, 2018
US Weekly movie critic Mara Reinstein joins the show to compare notes with Joe and Katie on the recent crop of theatrical releases. Rob is out on tour so Joe and Katie give you more insight into the relationship, now going to the next level. Mike Chamberlin is called out. Katie discusses the details of Joe's big surprise for her this past Wednesday night. It is revealed that there may be some real drama going on behind the scenes. The guest list is complete and the wedding plans are already developing. Last weekend's murder mystery was the hottest show in town.
Episode 362 - May 14th, 2018
While out watching the Caps in a bar, Rob encounters a completely clueless fellow patron. Mr. Amato takes a stab at creating a new show intro. Joe takes a few shots from Mac on Facebook while Rob gets unfairly smacked by another P1 on Twitter. Rob feels guilty after accidently stealing $20 from a fan and Joe tries to buy a meal for a homeless man. Rob complains about a comic who did a guest spot on one of his recent shows. Marcus in not happy with the most recent O'MearaCast. A newly-created void on the sound board at Magooby's causes confusion. The legendarily terrible local stand-up continues to build on his baffling credits. Joe's worst employee makes a big announcement. Rob gives a great deal of thought to how he might use his MoviePass gift before it expires.
Episode 361 - May 14th, 2017

This episode is available to premium content subscribers only.
For more information about how you can hear
Rob and Joe bonus shows visit Patreon.com